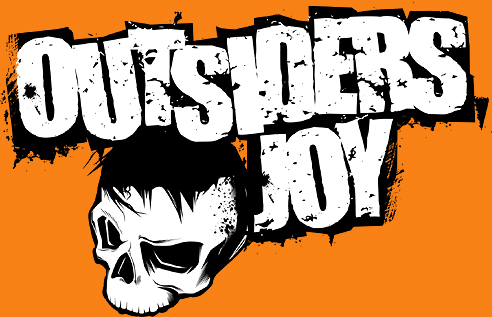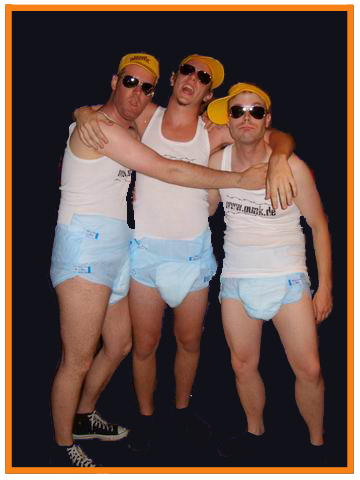 OUTSIDERS JOY – that's 100% punk rock from Cologne, Germany, with mostly fast and always diversified melodies and lyrics with a message; now for more than 12 years!
In the first three years after the band was founded in 1996, they tried a variety of different constellations of male and female singers or a second guitar before concentrating on the typical rock'n'roll line-up – guitar, base guitar, drums, and three vocals, playing as a trio since 1999. The last change of personnel was in 2005 on drums, when the band evolved musically even more.
After numerous demo tapes, they recorded their first studio album "Grosse graue Männer" ("Big gray men") in 1999 and marketed it all by themselves, without a label. After that, NC-Music and Nix Gut Records jumped in, took the CD on their mail order lists and has been selling them since then. In addition to the debut album, four more songs were published on the samplers "Chaos, Bier und Anarchie 3 + 4" ("Chaos, beer and anarchy 3 + 4") and "Deutschpunk Gewitter 3" ("German punk lightning 3").
With the new album "Sonnenbankgebräunter Anabolikamutant" ("Sunbed-tanned anabolic mutant"), finally published in July 2008 on their favorite label Hulk Räckorz, the three guys from Germany's most beautiful city prove to have a lot to say and to have developed into a serious punk rock formation.
When performing live, the Cologne trio lives up to their full potential, taking a clear anti-right position, always proving humor when interacting with the audience, re-inventing themselves on stage every time anew with cover versions of bad and even worse songs, and having above all a lot of fun.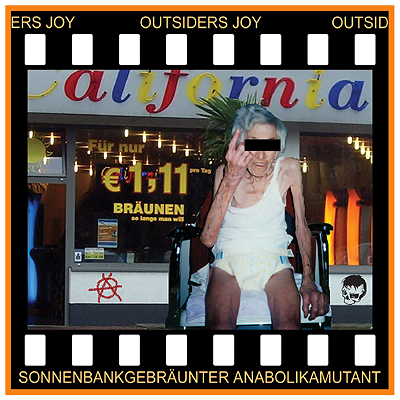 SONNENBANKGEBRÄUNTER ANABOLIKAMUTANT ("Sunbed-tanned anabolic mutant") is a line from the lead song "Fünf Minuten Ruhm" ("Five Minutes of Fame"), which bashes the all-so-shiny and bright world of film & TV, show business & high society, the world of the rich and the beautiful, who are nothing more than superficial and away from reality, digging their own graves.
17 songs, down to the point, 17 times 100% punk rock with honest, political, anti-fascist, socially critical, cynical, nihilistic and intimate lyrics, always coupled with quite a dose of irony and humor. 15 songs in German, two in English.
"Crash Test Nazi", for instance, presents the perfect solution on how to recycle Nazis. "Hörsturz" ("Hearing loss") describes the consequences of the unbearable pop music. "Seele voller Narben" ("Soul full of scars") is about pedophilia, a topic which is now more relevant than ever, given the most recent incident from Austria, where a sexual pervert held his daughter in prison for decades, giving birth to seven children with her. "Was ich mag" ("What I like") criticizes the long-time existing and ever-increasing trend within the globalized economy, in which fat managers become even fatter and richer, while the employment rate goes down. "Ein Lied über den Sinn" ("A song on meaning") is about life and how it passes without meaning and notice. Musically speaking, all of this is framed with honest punk rock and a number of tunes that just stay in your ear, music which is open towards other styles as well as guest instruments and musicians, such as a saxophone on "Hörsturz" or a girl's choire on "Ein Lied über den Sinn". Mostly fast-paced but danceable, with loud guitars, driving drums and a bulky base guitar. Sometimes in Waltz rhythm, sometimes with elements of Ska. The 17 songs convey a lively punk rock experience, never doing without message and background, always supported with an opulent sound, brought to perfection by Guido Lucas in the blubox studio.


The new CD
"Sonnenbankgebräunter Anabolikamutant":

Party - Guit. + Voc., Falte - Drums, Örny - Bass



___________________________________________________________________________________________________________________________
Page Designed by Party@punk.de
Reviews about the new album "Sonnenbankgebräunter Anabolikamutant"
PUNKROCK REVIEW.ORG / USA
This band is from Cologne in Germany, and most of the songs are sung in German, which classifies them as Deutschpunk. I haven't really listened to a lot of Deutschpunk, only the more melodic bands like WIZO, TERRORGRUPPE, LOST LYRICS and DIE ÄRZTE. These bands are a good place to start, because OUTSIDERS JOY sound a lot like WIZO in particular, even more with the English lyrics thrown in from time to time. So Hulk Räckorz is the perfect label for them. After a short intro, the second songs kicks in and shows the direction: melodic and, more important, actually varied. This was a problem I had with many Deutschpunk bands, but this here is not boring at all: fast poppy punk, 90's Fat Wreck-core, ska and from time to time weirder rhythms. Add to this the typical political, critical, and in this case good lyrics and you get a really good punkrock album. Keeping in mind that this is an American review site, this album might be rather exotic, but if you can get behind the point that you don't understand most of the lyrics, or if you're even a fan of WIZO (yes, they had an album on Fat Wreck), you should give this album a serious listen. I really like it.

REVIEW FROM KENGO / JAPAN
This full-length is their latest album released on Hulk Räckorz worked by WIZO.
This includes 18 songs not only fast but ska tunes. Most lyrics are written in German, so I cannot understand it because I am Japanese. However, a few songs are written in English. The lyrics are great. Maybe, the other lyrics are great though I can't understand because I am Japan.....blah.blah.blah....Do you know? If you can't understand German as me, this lyric card becomes German textbook! You can learn German from it. You'll be a smart guy! Most tunes of OUTSIDERS JOY have a taste of WIZO and a little bit of NOFX, but also exists a taste of OUTSIDERS JOY. All songs are so catchy and great melody. If you listen even once, you are going to sing the song 5 minutes later. This album includes 18 songs, but you don't get bored. It simply means all songs are great. "Sonnenbankgebräunter Anabolikamutant" is not only music but also textbook! Hahaha.... If you are interested in it, you should listen. Hey, Japanese, Chinese, Korean and anybody, you don't speak German? You should learn from it! For fans of WIZO, NOFX, GIGANTOR, DESCENDENTS / ALL and so on....