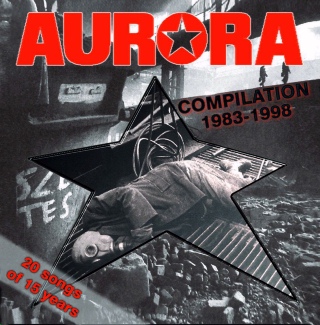 A song from the Compilation-CD: Kifacsart citrom
(MP3)
The biggest tragedy of the 20th century can be designated the wreck of the Titancic. As biggest lucky chance at the end of the 20th century can be designated "Aurora", the rippin` hungarian power-punk cruiser which is still sailing on the "hardcore" seas.
Aurora was founded in Györ, Hungary, by the young local punks "Vigi"(guitar/vocals) "Galacs" (Bass), "Polyak" (Drums) and "Dauer" (vocals). This was in 1982, at the height of the Hungarian punk blast , a period in which a punk gig caused big agitation, occasionally by starting riots.
"We started criticizing the Soviet Army a little bit too early. It wasn´t really a surprise when the authorities sent us for trial because of our anticommunist lyrics. Our original singer "Dauer" had to spend two years in prison because according to the authorities he had chosen the "wrong words", Vigi reminds of the old, "romantic" days.